C

areers

E

ducation,

I

nformation
&

G

uidance

(CEIG)
We believe that good Careers Guidance supported by good Careers Information and Education helps motivate students by providing them with clear goals for future study and careers. This often leads to higher attainment and greater confidence in choosing and managing their career and study goals.
Careers Education has 2 aspects:
(i) All subject teachers being mindful to relate their lessons to the future careers
(ii) a programme of lessons and activities designed to help students understand the world of work, the local and international labour market, career opportunities, and University and College options (including tuition fees and financial aid). 'Transferable skills' (eg communication, teamwork, problem-solving) are explained and students encouraged to acquire them.
Should involve:
giving students and parents access to good quality information about study options and work opportunities;

welcoming universities, technical/vocational colleges & employers to give presentations at the school;

encouraging students to visit university & college open days;

displaying up-to-date university & college brochures, and information on careers in Lebanon & beyond

contacts with businesses & other workplaces; talks on Careers by practitioners.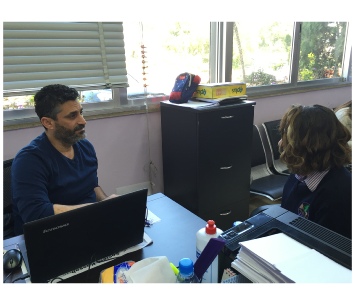 should be offered by a trained Careers Counsellor who enables students to make informed choices about study options and career paths, taking into consideration their Interests, Skills, & Values.
The Counsellor should be accessible whenever significant study or career choices are being made. He/she should know about available labour market info., as well as educational opportunities and F.E. course requirements. A Counsellor may support several schools.
The school CEIG programme is best managed by a trained Careers Co-ordinator who will preferably be a member of the school staff, but may be an external person (perhaps working with a group of schools).
The Careers Co-ordinator will promote CEIG in the school; this may involve taking careers lessons (or arranging for a teacher to do so), arranging Career talks, conducting interviews if trained to do so (if not, arranging for a trained Counsellor to attend), organising Careers and University/College Fairs and designing careers activities for subject teachers to include in their lessons.

Elie Hassoun giving careers advice at LESBG
Our latest publication (2021): The Careers Coordinators Handbook - a practical manual for school careers Coordinators in Lebanon. Foreword by David Andrews CBE.